PROFILE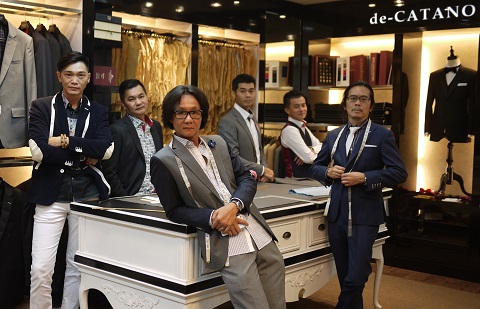 Clothes maketh the man. An impeccable suit combines immaculate tailoring, distinguished craftsmanship and superior comfort that only the best can provide.
Menswear is limited by perceivably more restrictions than ladies wear in terms of style and design. de-CATANO strives to work within those restrictions to create individuality and character, at the same time allowing more freedom of choice. We pride ourselves in being unconventional and unrestrictive.
Alan Chong, the founder of de-CATANO, believes that menswear no longer consists of sombre colours. That is why at de-CATANO, colours are the order of the day. Step into any of our shops, and you will be met with plenty of colour and prints. With a good selection of house and premium fabrics and accessories, you will be spoilt for choice.
Here at de-CATANO, we believe that satisfaction comes not only from wearing attire that fits well, looks good and feels great, it also comes from having a part in its creation. From fabric and design, down to details as small as cuff buttons, the decisions lie with the customer. We offer our professional opinions. You make the decisions.
Catering to the fashionable metropolitan man who knows what his clothes can do for him, de-CATANO is more than a just a bespoke tailor; we are a fashion house that places craft, style, comfort and quality at the top of our priority.
Our Vision
To strive towards becoming a global tailoring and design player, consisting of the best people to offer services of the highest quality and products that are value for money.
Our Mission
To be the market leader in tailoring and design, to work closely with our customers to meet their needs and expectations while allowing them to dress in success, comfort and convenience.
To constantly seek and work with our suppliers for the best materials and to create and deliver the most innovative, exciting, fashionable and quality products for our customers.
Our Philosophy
Our underlying philosophy is to produce products and deliver services that will bring excitement, surprise and satisfaction to demanding customers.
Our Values
To create value and confidence in our people, we need to build on our shared cultures and behaviours -leadership, innovation, teamwork, customer focus, commitment, mutual respect, trust, openness and integrity. We are committed to living these values in all our endeavours at de-CATANO.